Hello everyone,
Recently, a friend of a friend decided that he wanted to go to Japan for a short vacation, but rather than going to Tokyo, he wanted to travel to Kyoto instead. So he asked if I had any advice about cheap travel to Kyoto. And I do!
But I realized I hadn't shared this great information with all of you, so here you go! This is how to travel on the cheap to Kyoto, Japan!
Please note, I'll be talking about flights, places to stay, and transportation in this post. I'll have an entirely separate post about fun things to do while in Kyoto!
CHEAP FLIGHTS
The first thing you will need is a flight to Kyoto, and this will also be one of the bigger expenses on your trip. Most of the information I've spoken to you about before in my How to Get Cheap Flights to Japan! post will also apply for flights to Kyoto, so please take a look there for all of the details. However, the main thing you need to know is that Kyoto doesn't have an international airport!
In fact, the closest airports for travelers from the US to Kyoto are both in Osaka, Japan—another great travel destination, but we will talk about that in another post.
The two choices you will have are:
Osaka International Airport, more commonly known as Itami Airport; or
Kansai International Airport
Either choice would be fine, as flight prices are generally the same for both, but there are some slight differences you may want to weigh when deciding.
Osaka International (Itami) Airport
First, Osaka International Airport (Itami) Airport isn't actually an "international" airport. It really only serves domestic travel in Japan. Then why is it even a choice? Well, even though you cannot get a direct flight from the US to Itami Airport, most major airlines traveling to Japan have flights to Itami Airport, but will typically have a short layover in either Narita International Airport or Haneda Airport. So keep this in mind if you don't like layovers.
But once you do land in Itami Airport, it is actually slightly closer to Kyoto than Kansai Airport, which makes the travel from Osaka to Kyoto slightly shorter.
Generally, the quickest, most convenient method to travel from Itami Airport to Kyoto is via the Airport Limousine Bus, which takes about 50 minutes at a cost of about $12-13. Not bad. Plus, I've found that using the bus makes it easier when I have several pieces of luggage, as they can just put it in the big space under the bus without any trouble.
Of course, you can also travel via train, by using the Osaka Monorail from the airport to Hotarugaike Station, and from there taking either the Hankyu Kyoto Line or the Hankyu Takarazuka Line to Kyoto. This will take about 60 minutes at a cost of about $6-9.
Kansai International Airport
Kansai International Airport is your other choice, and unlike Itami Airport, you CAN get direct flights from the US to Kansai Airport. I prefer direct flights to Osaka, since I'm not a fan of layovers—they just decrease my time to have fun in Japan! This is usually my first choice.
Again, you have the option to travel from Kansai Airport to Kyoto via the Airport Limousine Bus, which takes about 80 minutes at a cost of $12-13. However, the quickest, most convenient method to travel from Kansai Airport to Kyoto is via the Limited Express Haruka, which takes about 75 minutes at a cost of about $25. The price tag is double the cost of the bus, but if you are using a Japan Railway Pass during your trip, the Limited Express Haruka is covered by the pass. We will speak more about the JR Pass below.
CHEAP PLACES TO STAY IN KYOTO
Moving on to the second biggest expense in your travel to Kyoto, places to stay and rest. It is true that finding a cheap place to stay in Kyoto is harder than Tokyo, but it is definitely not impossible. It just takes a bit more planning.
Again, I would recommend that you take a look at our previous post about Cheap Places To Stay In Japan! as that information is relevant when trying to find a place to stay in Kyoto too. But I would like to place a bit more emphasis on business hotels and AirBnb when traveling to Kyoto, as in my experience, this tends to be the cheapest way to find a comfortable place to stay. Note that hostels are in option in Kyoto, but most people prefer a bit more privacy than what is offered in a hostel.
Business Hotels
Business hotels range from $50-70 US Dollars and up, per night. These rooms are very basic, as you get your own bathroom, TV, and air conditioning. They usually have either a bed or a futon, and most have free Wi-fi too.
The bed is a small twin-size bed, which comes with a standard pillow, blanket, and sheets. The bathrooms are also tiny, and generally have a small shower, toilet, and sink—think of an airplane bathroom, only slightly bigger. Toiletries, such as towels, soap, shampoo, and toilet paper, are included.
You can typically find vending machines and coin-operated washing machines and dryers somewhere in these hotels. If you are lucky, you might also find a business hotel that serves breakfast.
But these hotels are very small. In some hotels, you can reach each wall by extending your arms. Also, they are mostly occupied by business men traveling for work, so they tend to be very quiet.
I recommend using Trivago for your business hotel search, since this site compile various other websites hotel search databases.
AirBnB
Until recently, I wasn't sure if I would still be recommending AirBnB for cheap travel to Japan, as new regulations instituted earlier this year in Japan made it slightly more difficult for Japanese people to operate "minpaku" or "private lodging services" like AirBnB. You can read our post here: Airbnb Listings Drop By 80% In Japan!
The new "minpaku" regulations caused AirBnB locations to drop an astonishing 80% in Japan! This resulted in higher prices for the remaining AirBnB locations, making them more expensive than a regular hotel for a few months. However, I have been monitoring the AirBnB listings in Japan, and they are slowly returning to their previous price levels. They are once again a cheaper option than a normal hotel.
You can find rooms as low as $30-50 US Dollars, per night—I actually performed a few searches for rooms while writing this post to confirm this price range in December 2018. But remember, prices can fluctuate on a daily basis.
AirBnB hosts are generally great, and sometimes provide cool amenities—I've stayed at AirBnBs with manga libraries, Wii, and small gardens. I also find them to be more convenient than other options, since you have everything you need in one place—kitchen, bathroom, laundry, and Wi-fi.
Most AirBNBs also come stocked with all of the usual items that you find in your own home, such as kitchen utensils, stove, microwave, refrigerator, cleaning supplies, towels, toiletries, and detergent. It makes you feel at home.
But expect to find rules for staying at these locations, as the owners generally live in these locations for part of the year. This includes cleaning the kitchen, washing dishes, and throwing-out the trash. In short, don't leave a mess, or you will be charged for the clean-up.
Also, some hosts are not the best, and there are plenty of horror stories out there—such as hosts that don't speak English or were not very responsive. But don't let this stop you. I've had amazing experiences in Airbnb's, and I always look here first. Remember, the key is to check rating scores for each location.
You can find an AirBNB in Kyoto here: AirBnB Kyoto
CHEAP TRANSPORTATION IN KYOTO
So now that you are in Kyoto, how do you get around to all of the cool places you want to see? Well, even though access around Kyoto isn't as easy as Tokyo, there are trains, subways, and buses to get you everywhere you need to go. But here are the cheapest ways to do that!
JR Pass
If you have seen my other post about cheap transportation in Japan: Cheap Transportation In Japan!, then you are familiar with the Japan Railway Pass (JR Pass).
As I mentioned in that previous post, the JR Pass is a great value if you will be traveling between cities, and using a shinkansen more than once. If you already have a JR Pass, you can use it on the JR Trains and JR Buses in Kyoto. That means there would be no additional cost for most of your travel within Kyoto.
HOWEVER, if you were not thinking of traveling between cities on the shinkansen, then the JR Pass would NOT be the cheapest option for you! In other words, if you are only traveling to Kyoto, then don't waste your time on a JR Pass.
Also, even if you are traveling between cities via shinkansen, the JR Pass cannot be used on all buses or trains in Kyoto. So you will still need other options.
SUICA/PASMO
As I've mentioned in previous posts, Suica and PASMO are rechargeable cards that you scan to ride trains, subways, and buses. These are very well-known in Tokyo, and I definitely recommend using them while sight-seeing in Tokyo.
However, one of the questions I hear regularly is whether you can use a Suica or a Pasmo card in Kyoto? The answer is YES!
Back in the day, you were not able to use Suica or PASMO in Kyoto, as the Kyoto-region had a separate card called the ICOCA Card.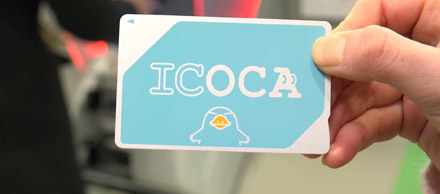 But today, the regional card restrictions are LONG GONE. So you can get any one of these cards and use them to pay for your train, subway, and bus rides. Most train rides from one station to another range from about $1.25 to $1.60, and most bus rides cost about $2 per trip. And of course, you can use these cards to buy items in convenience stores, vending machines, and restaurants too!
Kyoto One-Day Pass
Of course, if you plan on visiting several different locations in Kyoto in one day, it could start getting too expensive to simply use a Suica or PASMO. This is where the Kyoto One-Day Pass comes in.
It costs about $8 (900 yen), but it allows you to ride the Subway Line, City Bus Line, Kyoto Bus (excluding certain lines) and Keihan Bus (excluding certain lines) as many times as you want for one day. And there is also a two-day version for about $15 (1700 yen).
 But it is only valid from midnight to midnight on one day! So if you buy it at 10 pm at night, then you can only use it until midnight of that same day. So, if you are planning to use this ticket, buy it early in the morning so you can get the most value.
So get out there and start planning your trip to Kyoto! And don't forget to lookout for our next post about all the cheap things to do in Kyoto!
–Sal